UNESA is Preparing to Release a Book on the 1st Regional Forum Collaborating with SEAMEO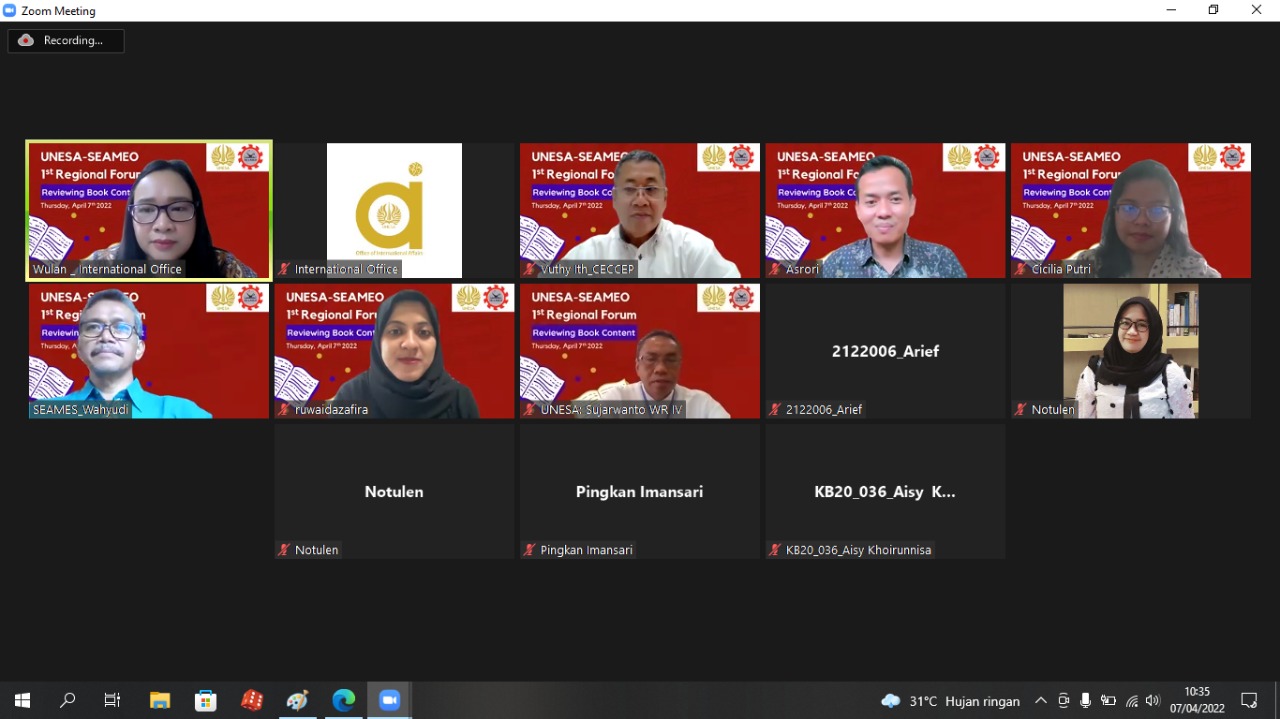 UNESA is Preparing to Release a Book on the 1st Regional Forum Collaborating with SEAMEO
On Thursday (7/4), the International Office of UNESA was organizing a content review on the book chapter of UNESA-SEAMEO 1st Regional Forum conducted last October 2021. The event was held in the form of a focus group discussion inviting two remarkable reviewers Dr. Ith Vuthy as the Deputy Director for Program of SEAMEO CECEP, and Dr. Wahyudi as the Deputy Director for Program and Development of SEAMEO Secretariat. The discussion that took place in Zoom Meetings went from 9.30 AM until 11.00 AM Indonesian Time.
To begin, SEAMEO Entrance of Colours, Indonesia Raya, as well as Mars UNESA were presented to open the event. It was followed by the opening remarks from Dr. Sujarwanto as the Vice-Rector of Planning and Partnership Affairs. He stated that the regarded session is very detrimental to the content and, more importantly, the quality of the book. He also hoped this event can hereafter enhance the cooperation and collaboration between UNESA and SEAMEO stakeholders.
The next agenda was filled with Mr. Asrori as the Head of the Office of International Affairs to explain the objectives of the event. He emphasized the importance of the book and wished for it to be useful and beneficial to the readers and all parties. Moreover, he was also anticipating the next regional forum to be soon realized and, hopefully, in a face-to-face manner.
After that, the event moved to its main agenda which was the book content review with Dr. Ith Vuthy and Dr. Wahyudi. Both reviewers offered their impressions, insights, as well as constructive feedback for the draft. They particularly highlighted the purpose of the book which then would determine the possible arrangement of the final product. Further, the team of the committee and the reviewers discussed feasible solutions for some issues and also scrutinized the things to be done in the process of completing the book. After much consideration, several agreements had been reached not only regarding the book chapter but also regarding the upcoming regional forum.
Overall, an hour and a half discussion between the team of UNESA and Dr. Vuthy and Dr. Wahyudi from SEAMEO went smoothly and fruitfully. The suggestions and recommendations from the forum were insightful and significant not only for the current agenda but also for the future collaborative event.