2022 GLOBAL UNDERGRADUATE EXCHANGE PROGRAM (GLOBAL UGRAD)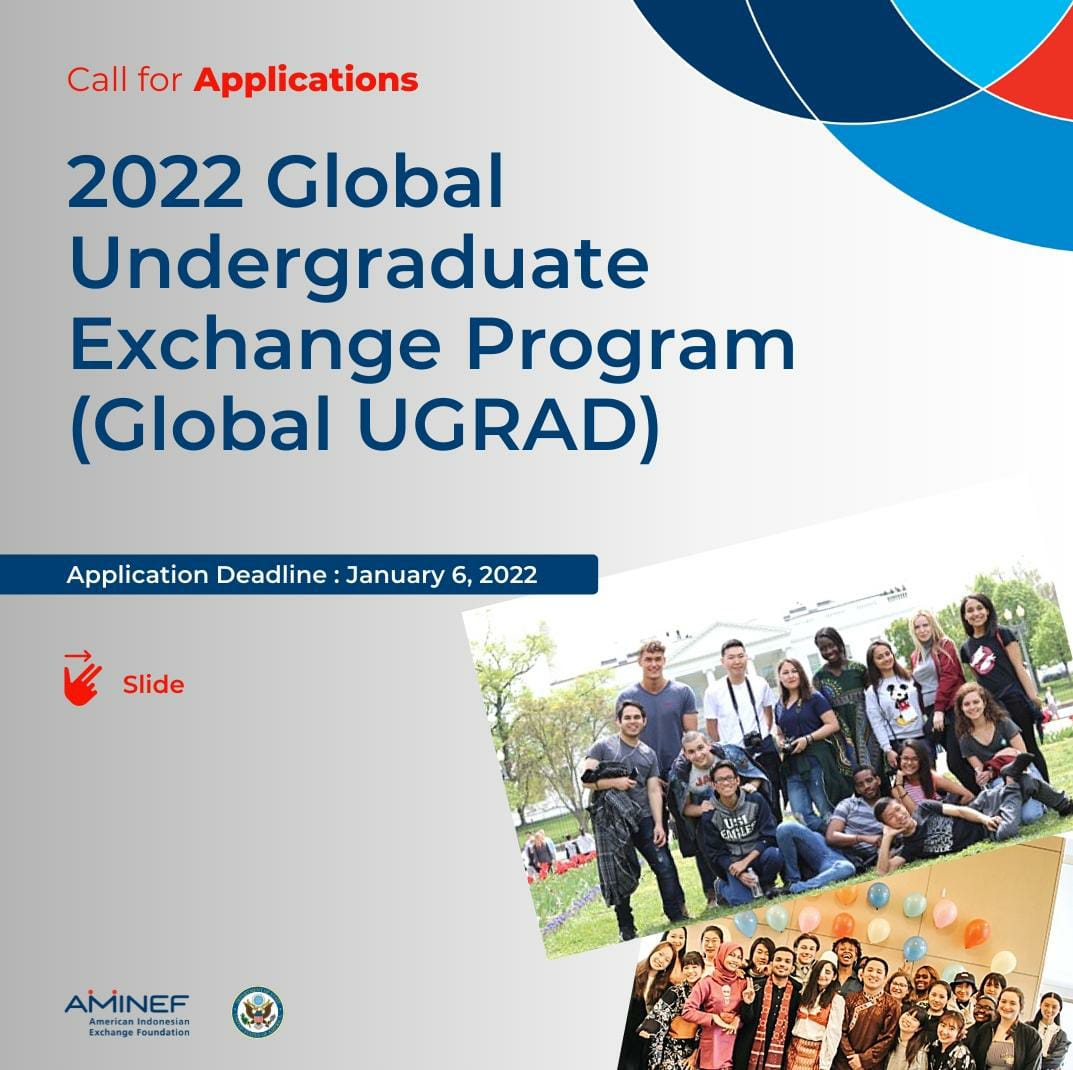 Warm Greetings from The United States!
The AMINEF 2022 Global Undergraduate Exchange Program (Global UGRAD) calls for applicants from Indonesia for one semester of non-degree academic study at U.S. colleges or universities. Successful applicants can expect in-depth exposure to U.S. society, culture, and academic institutions, as well as opportunities to enhance their professional skills.
All applicants will be enrolled in a full-time, non-degree, undergraduate coursework chosen from their host institution's existing curriculum.
Eligibility
Applicant should:
Be an Indonesian citizen

Be over 18 years of age

Be enrolled in a full-time undergraduate program (S1/D4) in Indonesia and having completed a minimum of one semester of study or more. Preference will be given to those who are in their third up to the fifth semester.

Demonstrate leadership potential through academic work, community involvement, and extracurricular activities.

Demonstrate command of written and spoken English as proven by a recent (less than two years old) TOEFL ITP or TOEFL Prediction score of 500 or iBT of 48.

Be committed to returning directly to Indonesia after the completion of the program
Deadline and Submission Requirements
Submit your online application materials before January 6, 2022. Kindly click here for the registration after preparing all the required documents below (all to be submitted in English) :
Two letters of reference, one from a lecturer from the applicant's major field of study and the other from another lecturer, an employer, a coach, or a community work supervisor.

Photocopy of Indonesian ID card (KTP)

The latest university progress report/transcript in Indonesian and English
All the documents should be prepared beforehand since the applicant will not be able to change, edit, or add additional documents after the deadline passed.
After the online application has been submitted, the candidates should inform the staff at AMINEF via email attaching the scanned TOEFL ITP or TOEFL Prediction score to info.scholarship@aminef.or.id with email subject [Full Name] - Completed Global UGRAD Online Form.
For a more detailed information, check out the official website 

here
Specific questions regarding the application process may be directed to: 

info.scholarship@aminef.or.id