DAEWOONG FOUNDATION GLOBAL SCHOLARSHIP PROGRAM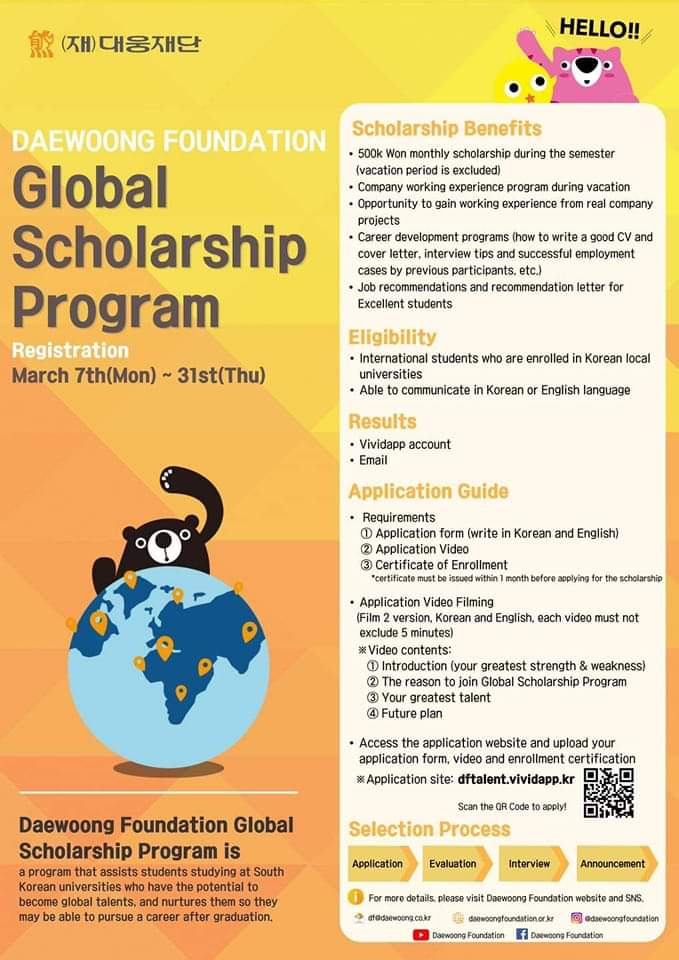 DAEWOONG FOUNDATION GLOBAL SCHOLARSHIP PROGRAM
Daewoong Foundation is currently opening applications for Global Scholarship Program. The scholarship is offered for global talents to take their studies in South Korean universities. The program also wishes to nurture them so they may be able to pursue a career after graduation.
Established in 1984, Daewoong Foundation itself has continued to provide assistance for both Korean and international students within various domains namely scholarship project, research support, and public service. Global Scholarship Program, being one of the leading schemes, supports international students with great potential to not only focus on their studies but also eventually create social values after they graduate.
Once selected, the awardee will get many benefits including 500k Won monthly allowance, the company working experience program, career development program, and recommendation letter for outstanding students.
The registration is open between March 7th - 31st.
Eligibility Requirements:
International students who are enrolled in Korean local universities

Able to communicate in Korean and English language
Application Guide:
Requirements:
Application form (write in Korean and English)

Application Video

Certificate of Enrollment
Application Video Contents:
Introduction (your greatest strengths & weaknesses)

Reasons to join Global Scholarship Program

Your greatest talent

Future plan
If you are interested to participate, the application website can be accessed here
For more detailed information, please visit Daewoong website and Social Media at:
daewoongfoundation.or.kr (web)
Daewoong Foundation (Instagram, Youtube, and Facebook)