INTERNSHIP ABROAD SCHOLARSHIP IN THAILAND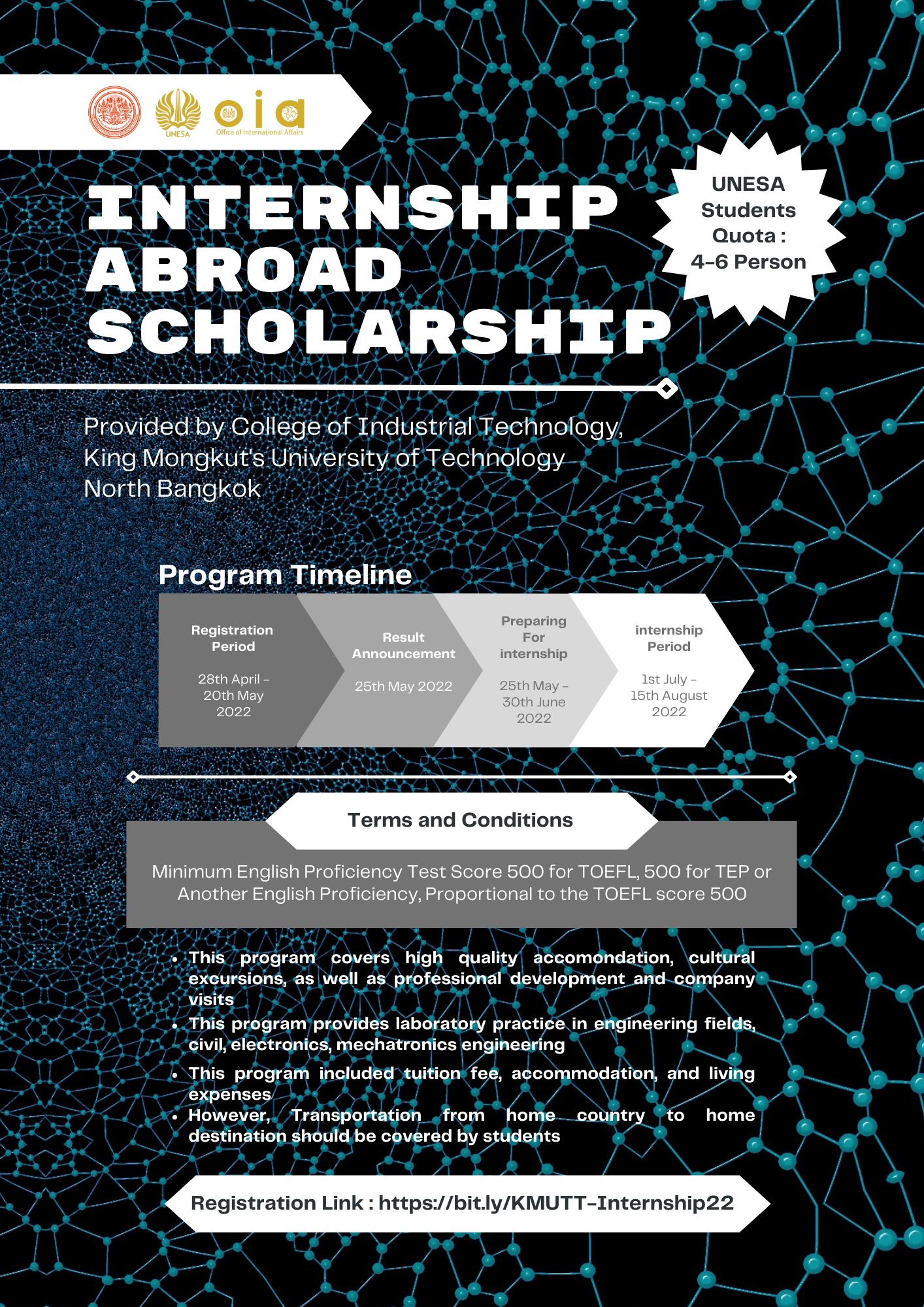 INTERNSHIP ABROAD SCHOLARSHIP IN THAILAND
In collaboration with the College of Industrial Technology (CIT), King Mongkut's University of Technology North Bangkok (KMUTNB), UNESA is pleased to announce the opening application for the Internship Abroad Scholarship in Thailand. A total of 4 to 6 students will be selected to join the program with the scholarship being offered partially.
Established in 1959, KMUTNB is a renowned public higher education institution in Thailand. The university was built in a partnership with the German government, therefore, the institution preserves the quality of its education programs by following German standards and a higher quality structure. Furthermore, the university particularly specializes in engineering and applied sciences. CIT, being one of the faculty, is especially excellent in both its theoretical and practical programs for quality engineers. By joining this program, the applicants will not only be able to apply and develop their expertise professionally but also get a taste of the unique culture of the country.
If you are interested in taking part in this internship program, please check out:
Program Timeline
Registration Period: 28th April - 20th May 2022

Result announcement: 25th May 2022

Preparing for Internship: 25th May - 30th June 2022

Internship Period: 1st July - 15th August 2022
Terms and Conditions
Minimum English Proficiency Test Score 500 for Toefl, 500 for TEP or Another English Proficiency, Proportional to the TOEFL score 500.

This program covers high-quality accommodation, cultural excursions, as well as professional development, and company visits.

This program provides laboratory practice in engineering fields, civil, electronics, and mechatronics engineering.

This program included tuition fees, accommodation, and living expenses.

However, transportation from home country to home destination should be covered by students.
We highly encourage you to grab this opportunity, especially if your fields of major are within the range of the program.
Register yourself before

20th May 2022,

the link can be accessed

here