The 2nd Unesa's International Forum of University Rectors (UNIFUR) 2021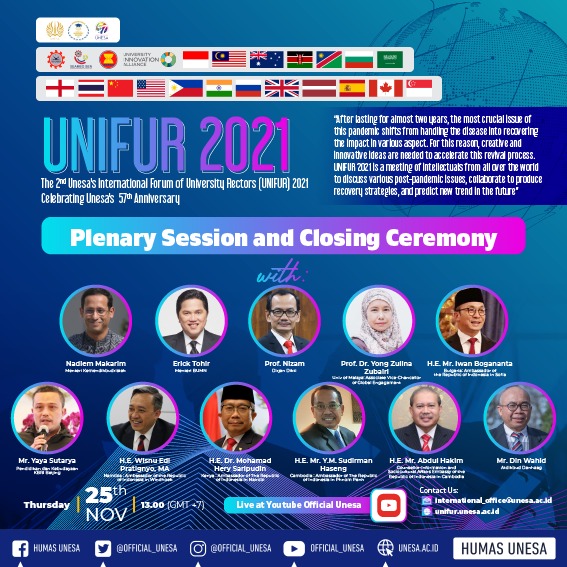 As everyone's been waiting for, it's time to talk about POST-COVID recovery🌈
📢📢UNESA PROUDLY PRESENTS
✨The 2nd Unesa's International Forum of University Rectors (UNIFUR) 2021✨
Hello Everyone👋🏻
Great closing for UNIFUR 2021 event series, celebrating UNESA's 57th anniversary, has been announced!! We're holding a Plenary Session and Closing Ceremony accompanied by numerous fantastic speakers👏🏻 including:
⭐Nadiem Makarim
Minister of Education, Culture, Research, and Technology
⭐Erick Tohir
Minister of State-Owned Enterprises
⭐Prof. Nizam
Director-General of Higher Education
⭐Prof. Dr. Yong Zulina H.E. Zubairi
Univ. of Malaya: Associate Vice-Chancellor of Global Engagement
And some Ambassadors of the Republic of Indonesia in various countries. 🪄
So, be present at a panel discussion focusing on various pandemic issues, collaborative recovery action, and prediction of post-covid new trends.
📌Save the date!
📅Thursday, November 25th, 2021 at 13.00 (GMT +7)
💻Only on Youtube Official Unesa
Don't miss out following the session real-time💫🌐
For more information, please kindly contact:
international_office@unesa.ac.id
Or visit the official website unifur.unesa.ac.id
See you at the session ✨🙌🏽