UNIFUR 2021: STUDIUM GENERALE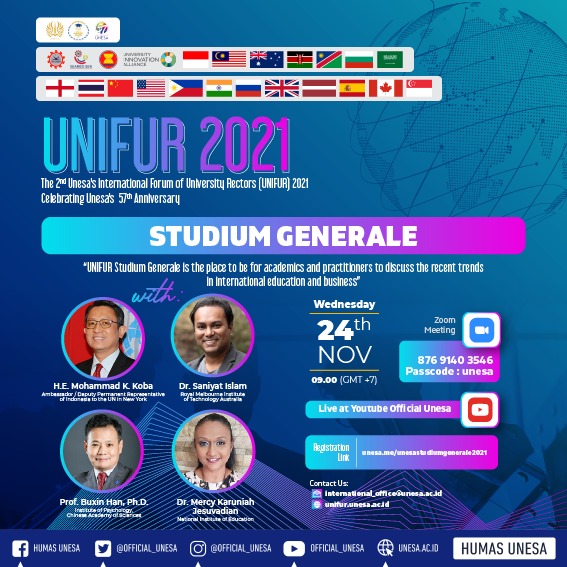 Hello, fellows !!! 👋
Are you ready for the next agenda ?
Let's get inspired by the expert from around the world
Be ready.....
UNESA PROUDLY PRESENT 📢
✨UNIFUR 2021 : Studium Generale✨
Celebrating Unesa's 57th anniversary, we're holding an exhibition as a part of UNIFUR 2021. This exhibition will take you beyond the borders and connect you to the educational institutions globally.
Bring your discussion on the new trends of international diplomacy, research h and education with our distinguished speakers :
💡H.E. Muhammad K. Koba
(Ambassador/Deputy Permanent Representative of Indonesia to the UN in New York)
💡Dr. Saniyat Islam
(Royal Melbourne Institute of Technology Australia)
💡Prof. Buxin Han, Ph.D.
(Institute of Psychology, Chinese Academic of Sciences)
💡Dr. Mercy Karuniah Jesuvadian
(National Institute of Education)
📌Time and Place:
📅Wednesday, November 24th, 2021
📱On Zoom and Youtube
Start your journey here❗
📍Register in unesa.me/unesaexhibition2021
So, what are waiting for?
Save the date and see you soon !!!
For further information, please kindly contact:
international_office@unesa.ac.id
unifur.unesa.ac.id